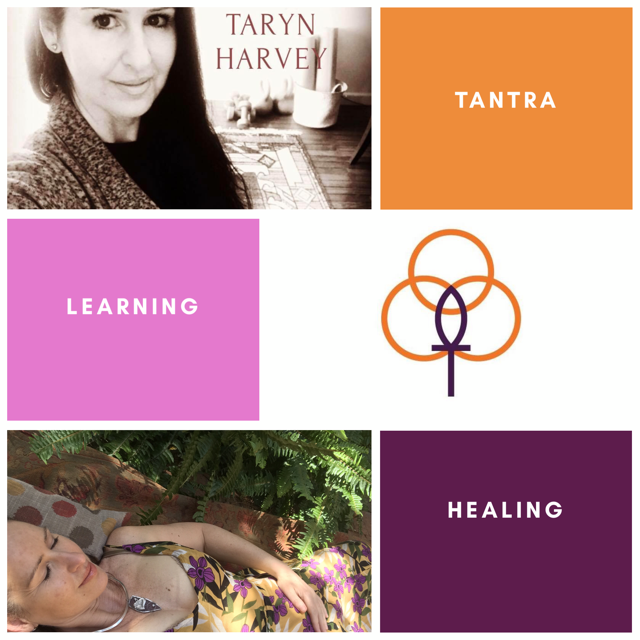 Transformational Tantra Teacher, Spiritual Healer, Shamanic Body & Soul worker, Psychic
(Astrology + Tarot)
...lover of babies & animals, philanthropist, seeker of truth & wisdom, healer of broken hearts, lost souls & aching bodies
IT'S BEEN A BIG LIFE…!
As a passionate advocate in healing sexual shame, Taryn's genuine approach and expansive knowledge around sexual health and body wisdom has inspired practitioners & spiritual seekers globally.
Woven within a traditional framework that Tantra can provide, Taryn teaches practices that are more easily adapted into a modern day world. Given her experience, she has simplified this most powerful alchemic combination and created one unique modality.
'The Polarity Key' is a body based therapy. Her technique, which supports the activation of energy within our physical, subtle, emotional and spiritual channels, empowers the receiver with a deeper capacity to evolve by owning their personal experiences. Sessions may incorporate experiential, guided mindful touch.
Taryn's own healing and transformative journey began back in 1998 when her prolific career in Pharmaceutical PR began. After a highly successful Viagra launch and a series of pivotal programs involving women's menopause, blockbuster drugs, cancer campaigns and vaccine awareness, she became ill with adrenal fatigue. Recognising the need for restorative care and preventive health, Taryn left on a sabbatical to reclaim purpose and direction. What she hadn't anticipated was a detour into the sex industry and more study.
"The sex industry is where I was taught by men how to feel pleasure. They encouraged me to give permission; to surrender lovingly to my sexual energy. This highlighted a personal experience of always giving myself away, accepting emptiness as the norm. I reclaimed confidence and curiosity in Tantra plus mythology, making my mission clear."
Today Taryn is empowering men and women to navigate these deep mysteries of human existence; to explore their own unique polarity in alignment with Divine Source. She has adapted a unique sequence of bodywork practices based upon tantric ritual & energy massage, witnessing the way it invokes trust in a healthy adaptation of sexuality, allowing a sacred space for intimacy to be welcomed and consciously met in all relationships.
Taryn has written a successful memoir, speaking in the media on TV locally and radio internationally. She runs women's sexuality events, couples' workshops, global retreats and conducts deep, integrative sessions and men's mentoring by appointment when she's not teaching a Diploma of Tantra & Sacred Sexuality at Awareness Institute Sydney.
With inspiration drawn from Nityama, part Degree in Communications, Diploma's in Transformational Coaching & Life Care and Holistic Counselling & Shamanism, Certificate in Kaula Tantra & Kundalini Yoga, Certificate in Energy Healing and Chakra Balancing, Taryn practices yoga, outdoor walk meditation ritual clearing daily; paying homage always to our Earth.
Taryn's experience & CURIOSITY WAS IGNITED way back here...
Course Attendance & Accreditations
Pre-2000
Various Certificates in Marketing, Advertising
Degree in Communications
Media Sales, (TV & Print)
Senior PR Manager Pharmaceutical and Nutritional Healthcare
2000-2009 Owner, Balance Communications; Freelance Health & Nutrition PR
2001-2002 Spiritual Sabbatical "Hero's Journey" Reconnecting with Gaia through Greece, Pompeii, Italy, Portugal (joined the pilgrims at Fatima) Spain & Alhambra Palace

2002 Transformational Life Coaching (Diploma)
– Meditation
– Shamanic journeying & Rituals
– Focussing
– Goal setting & mind mapping
– Vision Quest (Blue Mountains Retreat)

2002 Transpersonal Counselling & Life Care (Diploma)
– Psychodrama
– Gestalt therapy
– Understanding Loss & Grief
– Relationship dynamics
– Body Image Attachments, Addictions & Wholeness
– Nutrition Counselling
– Counselling Children and Adolescents
– Safe practice
– Clinical practice hours

2003 Fernwood Fitness Centres for Women, Health Coach
2003 Tarot training in the cards – mythology, practice and meaning (with Paul Fenton-Smith)
2004 Workshops; Understanding therapeutic practice & healthy boundaries (Psychotherapists Jane Daisly Snow & Margaret Bailitis)
2004 Certificate; Applied Control Theory- Perceptual Control 'Diet No More' *In relation to Food; sensate analysis & quantum evaluation of behaviours (with Judy & Jenny McFadden AACTA)
2006 Tantra Teachers Training (with Bhakti Shakti & various Tantra Schools on-line webinars)
2006 Pranayama & Kriya Yoga in practice / Kundalini Yoga teachings of Yogi Bhajan 500hr (inclusive of Tantric Tattvas & Sutra + Anatomical Alignments; Pranayama + Disciplines of the Highest Vocation of Guru < meditational, chakra & subtle energy bodies adaptation>)
2006 Training: Introduction to energy, Spiritual Healing & Chakra balancing (with Annie Evans)
2009 Curves Female Gym, Health Coach
2010 Soul Sessions (Presenters Yasmin Boland Astrologer & Leon Nacson, Hay House Managing Director)
2010 Training; Disciplinarian practice (light BDSM & Roleplay)
2010 Training; Astrology basics with Kellie Surtees – Sydney
2011 Sex & Consciousness Conference – Byron Bay
2012 Tantric Nights – Tantric Blossoming – Sydney
2012 Training; Astrology mapping with Kellie Surtees – Sydney
2013 Training; Energetic Healing (on-going Diploma studies)
2013 Anatomy & Physiology – sexual portals to healing
2013 Meridian; connective energy source points
2013 Presentation: Dr Brene Brown (on Vulnerability) – Melbourne
2013 Conference: AISHM Sexual Health (presenters include Dr Bettina Arndt, Dr Michael Lowry)
2013 Presentation: The Biology of Belief, (presenter cell biologist Dr Bruce Lipton) – Sydney
2013 Conference: Uplift Byron Bay (several presentations on positive psychology etc)
2014 Women's Circle – evening of divine dance & ritual – Sydney Tantra Temple
2015 Training: Talking about Love & Sex when Death is in the Room (Buddhism & Psychotherapy)
2016 Workshop; Karma and Past Lives "Encouraging your memories to surface" with Linda James (Awareness Institute)
2016 Training: ONE DAY of Ascending masters Workshop "DNA 5th Dimensional Frequency + Unification of the Inner Divine Masculine/Divine Feminine Template / restoring alignment" / "Shamanic Initiation of the Incas stage 1: Harmonising energies and honouring Mother Earth" with Raghida Shaman
2016 Training & Workshops CELEBRATE YOUR LIFE: Arizona USA –
WORKSHOP: Gregg Brayden 'Heart Math' Resilience & Ageing
KEYNOTE SPEAKERS: Dr Jean Huston / Carolyn Myss / Marianne Williamson
WORKSHOP: Denise Linn (past life patterning, forgiveness and psychic intuition practices)
Presentations + Event Facilitation
1998 Men's Health Forum (Leveraging Viagra launch of which I was involved with KOLs worldwide. Erectile dysfunction discussions – wrote materials pertaining to prostate, testicular cancer programs for prompting check ups – collaborated with Urologists) – Hosted Adelaide component
2000 Australasian Women's Menopause Society Round-table (Organised collaboration with Women's Health specialists & oncologists) – Sydney
2001 Poduction of women's menopause information tools (Collaboration with sex therapist & author Dr Rosie King) – Sydney
2007 Presentation at school assemblies & clubs on wellness, vision & philanthropy – QLD
2010 Organiser & host of Forums on heart health (Research & collaboration with cardiologists) – NSW
2011 Facilitator Run Club meetings, major marathon evens & community engagement; building relationships & empathy to support uptake of healthy lifestyle & fundraising for research – Sydney
2014 Organiser & Presenter; Women's Intimacy & Sexuality Workshop – Awareness Institute – Sydney
2014 Organiser & Presenter; Conscious Sexual Healing & Tantra Teachers Training – Awareness Institute – Sydney
2014 Organiser & speaker; Trust – Sex & Self Esteem; Women's Small Talk on Sex & Intimacy – Adelaide
2014 Organiser & Speaker; Small Talk on Sex & Intimacy – Gold Coast
2015 Organsiser & Speaker; Small Talk on Sex & Intimacy; Women – Sydney
2015 Facilitator; Women's Tantric Sexuality Workshop – Gold Coast
2015 Facilitator; Women's Tantric Sexuality Workshop – Sydney
2015 Facilitator; Couples 'Rekindling Cupid's Touch' Micro-retreat Workshop – Sydney
2016 Teacher and creator of World First Accredited Program "Diploma of Tantra & Sacred Sexuality" (interview procedure for placements only, given the core components are psychological and sexual in content for sexuality as healing – not for profit nor gratification purposes)
2017 Teacher of Certificate / Diploma of Tantra * Sacred Intimacy & Healing (revised program due to success: two x yearly intakes – intensives format)
Media appearances & Publications
(see media info below to access links for viewing and listening to interviews)
2002 Article Written – Publication; Australian Journal of Pharmacy (interviews with Key Pharma Managers)
2014 Book written – Publication; Balboa Press 'Trust' (experiential research into sexwork & my clients; data collated over ten years; contains tantric / sex education plus relationship & intimacy insights and advice)
2014 Interview on Channel 7 The Daily Life – About sexwork & sexual healing (launch of my book)
2014 Interview in Mosman Daily – about sexwork, sex & relationships counselling
2014 Interview on American Radio Show 'Unapologetic Womanhood' (Let's talk about Touch as therapy)
2015 Interview OM Times Radio 9 July "The Emergence of a Modern Tantric Goddess in Therapeutic Practice (Singapore; with Dr Martha Tara Lee)
2015 Contributor 'Tantra & Sexuality Expert' Holistic Living Magazine Article 'Diabetes and Sex – can this affect your love life?' Sept issue
2016 Interview on Triple J "How does Anxiety affect our Love Lives?" Radio -( live studio interview last ten mins :)
Trust
(published 2014) Balboa Press
A memoir about dysfunctional relationships, sex industry, self esteem & reclaiming self love along the Tantric pathway
My next book is currently in production....